What a great Pattern Party!
Want to party again? Check back the first of May. We will have our next pattern party from May 1-10th! Get those patterns ready and tell your friends! Don't forget to grab our button!
Now for the top 5 links and the Giveaway winners!!!
Top 5 Pattern Party Links!
Make sure to grab our Pattern Party Featured Button!!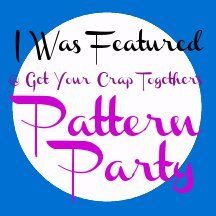 #1
Michelle @ Michelle Lea Designs
Check out her great organizational binder! It is pretty awesome!
#2
Deby @ So Sew Easy
Is is a great tutorial and doesn't she look fabulous!!
#3
PA Country Crafts
I love this sweet dress! AND it is green!
#4
Amy @ Serving Pink Lemonade
Little guys need to be superheroes!!
#5
Jill @ Huckleberry Love
This is so cute! I need to remember it for when my little one is older!
Thanks again to all who shared!!
Now our Giveaway Winners!
They each get two patterns from our Etsy Shop! Congrats to....
Margaret and Darlene
a Rafflecopter giveaway