Today starts the Back 2 School Bus Tour!
We asked some great bloggers to try out our Back 2 School Pattern Pack and blog about it.
Here is this weeks schedule!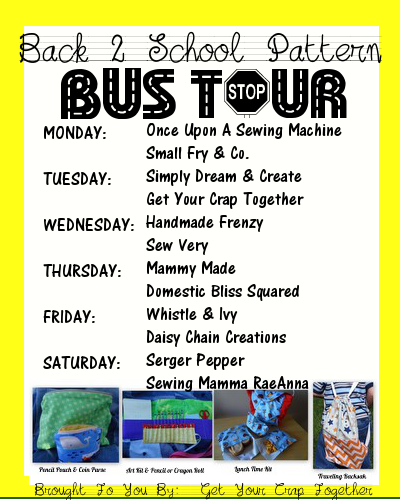 We are also having a GIVEAWAY! Check out the details at the bottom of the post!
Bus Stop #1
The Lunch Tote and Snack Bags
This great lunch tote can be made for little ones or big ones. Customized it to your child's likes and tastes. Create a Reusable Sandwich Bag and Snack Bags that fit perfectly within the tote. Comes with bonus pattern Cold Pack. No buying a new cold pack! Just make your own that matches.
Every child needs a backpack. This one is simple but functional and great for children ages 3-10. Just make sure to measure the straps to fit your child perfectly.
Art Supply Kit and Crayon or Pencil Roll
The Art Supply Kit will hold all your child's art treasures. You can create custom pockets for pencils, pens, markers, scissors, glue, tape, paper...you name it! The crayon or pencil roll will keep their precious crayons and pencils in one place. No worries about them getting lost.
The Pencil Pouch and Coin Purse
This great pencil pouch will hold all their markers, crayons or colored pencils. Perhaps they collect cards, toys or action figures. Another great way to store them. The coin pouch is great for carrying cash or coins. For those special days when they get to buy their lunch, take money for a treat, or go to the store for a prize.
Get this great pattern pack in our Etsy Shop!!
(Don't want all the patterns? We can do a custom order of just those you'd like! Send us an email!)
Check out some of the tester photos on our Flickr Page.
NOW....HOW ABOUT A GIVEAWAY!!!
Two Lucky Winners will win the "Back 2 School" Pattern Pack!!
Winners announced next week!
a Rafflecopter giveaway